It's been too long. In such a short time the whole blogging process has become quite cathartic for me, like releasing a little air in order to stay afloat. But the past ten days  have been crazy and I just didn't find the time. I missed the release and I am glad to say – I'm back!
Busy as it has been, I am now officially winding down for the holidays and relishing the prospect of a couple of weeks of family, food, cocktails and books…and hopefully lots of blogging!
For my literary diet, I was given a copy of A Man Called Ove by a colleague, and if the reviews are anything to go by I am in for a treat.
There are also a number of books on this list of 25 Incredible Novels that have somehow slipped through my personal net, and I am hoping to at least partially address this. First off, Number the Stars, which sounds like a simple, emotional tale, told with a some wonderfully poetic prose (my favourite type of oxymoron).  "She fell asleep, and it was a sleep as thin as the night clouds, dotted with dreams that came and went like the stars."
I am excitedly awaiting a delivery of some new winter boots to get me through the remaining weeks of rain and cold. This black, knee high pair from River Island, was reduced in their pre-Christmas sale and is currently winging its way to me.  They have a particularly attractive, almost worn-in looking, leather and just the right amount of height for the flatshoephobes amongst us.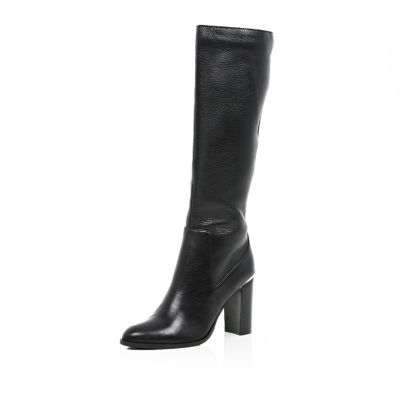 While I was shopping I also indulged in a couple of simple, casual pieces, all from River Island.
Lots of things completely pass me by, fads and trends have often come and gone, without leaving the merest blip on my radar. But can someone please tell me how I completely missed Elf!!! I am not a big Will Ferrel fan to be fair but 13 years later and I saw this festive gem in full for the first time. I laughed and cried and just generally loved every minute of it.
 From my web browsing, I bookmarked this article about naming children, for my sister-in-law who is currently pregnant and going through the choosing and discarding names phase.
I was also inspired to live in the moment and stop wishing the days away by this post on embracing winter.
I marvelled at the beautiful photography on this blog.
Over the holidays, I am planning to create a simple blogging space/ workspace that looks something like this.
Finally today's task, along with trying to defeat holiday packing procrastination, is gift wrapping.  And I am taking some inspiration from Katie's tips and including a candy cane gift tag on each present.
Have a great weekend xx