"Books are a uniquely portable magic." – Stephen King
As the summer is quickly drawing to a close, and I have to consider the reality of returning to work after three months (yes, I hear all those tiny violins) I thought I would do a quick review of some of the "stuff" I have been loving (or not) lately. Today I am going to start with books, because I can be happy pretty much anywhere with a good cup of coffee and a good book. Anyone who knows me will attest that paradise for me will definitely have a library.
In recent weeks I have read three bestsellers and here is my two cents worth on their varying strengths and weaknesses.
"Sometimes he fantasised that at the end of his life, he would be shown a home movie of all the roads he had not taken, and where they would have led." – Anne Tyler
This first book was a kind of romcom in pen and ink format, although I am sure this description would make the author cringe a little. "The Versions of Us" by Laura Barnett focuses on the moments that can change a life forever. It takes a "Sliding Doors" style approach, and the reader follows the central characters Eva and Richard through different versions of their respective lives. One moment, a choice of responses, a decision that will change the course of both their lives. From that moment we follow all three versions of the lives of our protagonists. The way their lives play out after that first meeting in Cambridge in 1958, and how the response in that blink of an eye encounter could open or close a variety of different doors. Robert Frost's "The Road not Taken" explores how, as "way leads on to way", we do not get to come back and travel the other roads, or ever know the outcome of a different decision when faced with choice. Barnett uses the power of imagination to follow both roads (or in this case all three) and tell, effectively, three stories in one. For the writer, this is no simple task. The success of the typical linear narrative is due to its simplicity. We trace a story from beginning to end in chronological order – it is difficult to "lose the plot". Deviate from this and you set yourself a great challenge. The writing has to be skilful to see this through. It was. The characters were engaging, the language both simple and poetic and the plot not overly complicated. Like Frost, Barnett explores lives unlived. It is a perfect theme for literature as it is an intrinsic element of life; every door we open sees another close, every choice brings new opportunity but inevitably leaves other possibilities unexplored.
We have one life. Eva and Richard in the pages of this novel had the luxury of three. I loved the reality in this narrative  – there is no perfect path – there are ups and down, joys and heartbreaks, sacrifices and rewards – no matter what choices they make. That's what life is, no matter which of the divergent paths you choose in Frost's "yellow wood". And so a realisation dawns…."because he is old enough now to know happiness for what it is: brief and fleeting, not a state to strive for, to seek to live in, but to catch when it comes, and to hold on to for as long as you can."
This was a great read; simple yet engaging, suspending reality yet paradoxically grounded in reality, poetic and conversational – grab a coffee and a comfy chair and give this one a go.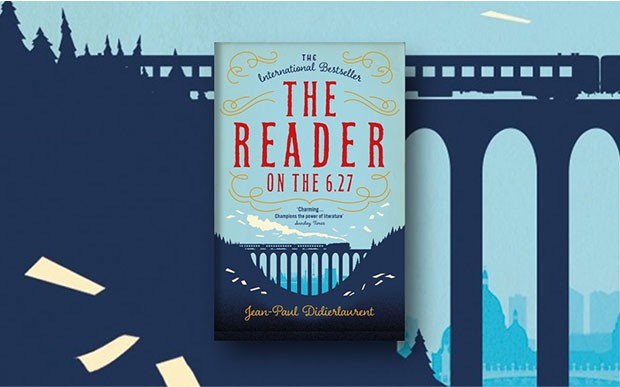 My second recent read was again a work of fiction and this time it was "The Reader on the 6.27". The blurb of this really captured my attention, as it was set up as a book that explores the power of the written word, specifically storytelling, to change a life. The central character, Guylain, works in a factory that pulps books, and hates his job. However, he takes random pages from various publications and reads them aloud on the 6.27 train, saving those words in some way, giving them the life they deserve. The pulping machine is personified as a monster, the stories themselves a panacea for life's difficulty and monotony. So far, so right up my street.
But I just didn't really engage with this narrative, as the larger-than-life characters just had an air of unreality, and personally I felt the plot just didn't quite hang together. That said, the story's central thread really begins when Guylain finds a memory stick containing the musings (almost in diary form) of a public toilet attendant called Julie. Personally, it was the writings of Julie that made me see this novel through to the end. I found her voice hilarious and sweet in equal measure, and, although I wasn't really invested in the love story of sorts that Didierlaurent was striving to create, the ending of this novel was ridiculously cute. Now I am sure that just as Barnett would not want to be viewed as a literary romcom, Didierlaurent would cringe at the term "cute" to describe his concluding moments – but that it was, and, make no mistake, it was the silver lining in what for me was a slightly cloudy read. If your eye has been caught by this book, I would not let this lukewarm review put you off; it is a really quick read, and not one I regret at all. I read the entire book in a day, and it had enough merit to sustain me through airport waiting time and a short flight. What was good was golden, but there was a little too much beige.
Finally, I picked up Matt Haig's "Reasons to Stay Alive" in a hurry and without reading the blurb. Never a good idea. However, this is a very readable, autobiographical account of the author's struggles with anxiety and depression and there is no doubting its honesty or integrity. It is quite an engaging read, with sprinkles of humour and a generally positive outlook on a dark subject. It is an important book for a society that still has a way to go to destigmatise mental illness.
But I am going to be honest here, this book did not touch my soul, probably because it wasn't written to be soppy or overly morose. And, possibly because to this point in my life, I have been blessed with pretty good mental health. It did, however, help me understand depression a little better and I did enjoy the listing technique peppering the pages.  Lists of warning signs associated with anxiety or depression, famous people who experienced mental illness, tweets from fellow sufferers regarding their reasons to stay alive and ways to support someone enduring a period of darkness. All this I found informative and very accessible. I also LOVED this passage:
"The world is increasingly designed to depress us.
Happiness isn't very good for the economy. If we were happy with what we had, why would we need more? How do you sell an anti-ageing moisturiser?
You make someone worry about ageing.
How do you get people to vote for a political party?
You make them worry about immigration.
How do you get them to buy insurance?
By making them worry about everything.
How do you get them to have plastic surgery?
By highlighting their physical flaws.
How do you get them to watch a TV show?
By making them worry about missing out. "
I have no doubt that this book has changed lives. It vocalised the emotions and experiences people struggle to find the words to describe. It gave people someone to relate to. It created a sense of being less alone. I admire all this. I admire the reality. I admire the honesty. I admire the individuality. Personally, I just didn't really connect, though reviews would suggest I am part of the minority. Again, this is a quick read that is well worth a shot. Just because it didn't change my life doesn't mean it won't change yours.
Now I have laundry to do and a new book to dip into. Til next time xo